Journal Entry:
Wed May 30, 2012, 7:53 AM

And I'm pretty excited, even thought it was last minute, I did in fact get a hold of an HD TV- in fact my dad offered to buy it himself. I wanted the 31 inch but he said no. Instead he said I should get the 32 inch because it was only $40 more. While I was there I also bought Skyrim- so I've been having a ton of fun with that game as well. Anywho, since I got the TV, and was able to hook everything I needed for my party up, I went ahead and invited people to the party via facebook- only three have confirmed that they can come- four more were maybes. So I'm not sure if they'll show up or not.
And since there were at least three people coming, I went to Publix and ordered a cookie-cake. Fudge topping and purple flowers. <3
5 more minutes and the party starts~
Yesterday was pretty good to, except for the part where my Grandma's car broke down as we arrived to the building where I was going to be meeting someone who will help me with my future (and they are helping me with my future- I've become an intern there! Not an official one but she is going to try and help me build my portfolio AND she's going to look through the prices of my freelancing business to see if they're good or bad or whatever). I was stuck with my Grandma almost all day yesterday because of her car.
Thanks to any and everybody who said not to give up on my birthday though- and thanks for all the fan art / Happy Birthday messages in my inbox! I appreciate every single one of those!
==> Be the closet pervert.
==> Be the sadistic executioner.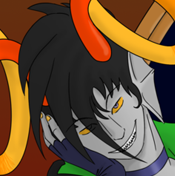 ♥ Matesprit: Maladro't Halcyonn ♥
♦ Moirail: Arcarrow Nightbow ♦
♠ Kismesis: Moonseye Bargegem ♠
♣ Auspistice: none ♣
Chumhandle:
twistedEnforcer
Listening to: pain
Reading: pain
Watching: pain
Playing: pain
Eating: pain
Drinking: SO MUCH FUCKING PAIN

Watch